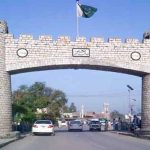 HANGU— Pakistan Tehreek-e-Insaf candidate Nadeem Khayal has retains its seat NA-33 Hangu by winning by-election in a close contest with Jamiat Ulema-e-Islam-Fazl (JUI-F) candidates.
In a big win, PTI candidate Nadeem Khayal is leading with 21583 votes, followed by JUI-F's Ubaid Ullah, who has secured 17,153 votes, said Preliminary and unofficial results.
PTI activists pursued an aggressive political campaign despites the party's decision to withdraw all of its lawmakers from the National Assembly. PTI lawmakers had announced mass resignations from the National Assembly after their leader Imran Khan ousted as prime minister through no confidence motion.
PTI leader Shehryar Afridi congratulated Nadeem Khayal and people of the Hangue for this win.
ہنگو کی غیور عوام! آپ کا شکریہ
پی ٹی آئی اور عمران خان پر مکمل اعتماد کرکے ڈاکٹر ندیم خیال کو الیکشن کامیاب کرانے پر حلقہ عوام اور ورکرز کا مشکور ہوں۔
حقیقی آزادی کے سفر میں یہ پہلا قدم تھا جو ہنگو عوام نے عمران خان کے ساتھ اٹھایا
#امپورٹڈ_حکومت_نامنظور pic.twitter.com/x9g2EgBB29

— Shehryar Afridi (@ShehryarAfridi1) April 17, 2022
Earlier, they took turn to lead the vote count, but the margin began to widen as results from more and more polling stations poured in.
There were five candidates in the run including PTI's Nadeem Khayal and JUI-F's Obaidullah.
The Election Commission set up 210 polling stations for around 314,000 voters in the constituency. Out of these, 77 polling stations were declared "very sensitive". CCTV cameras were installed and strict security measures were taken.
The Seat was left vacant after PTI lawmaker Haji Khayal died from heart attack.