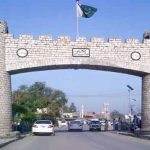 PESHAWAR: Three female members of Khyber Pakhtunkhwa Assembly being accused of horse-trading in the recently held Senate election on Friday rejected Imran Khan's allegations and warned of legal action over baseless allegations.
While addressing a news conference in Peshawar, MPA Nageena Khan, Nargis Ali and Naseem Hayat claimed that were loyal to the party. The female MPAs claimed on oath that they voted for PTI candidates in Senate election. They maintained that they are even today loyal to the party and are ready for investigation.
Earlier, PTI MPA Fozia Bibi had strongly refuted charges of corruption and her involvement in selling her vote in recent Senate polls. She alleged after the senate elections of held on March last, some elements within the party were hatching conspiracies against her and were convoluted in her character assassination. Moreover she added some online newspapers were airing news that had tarnished her image and she was intending to serve them a legal notice in the foreseeable future. Moreover she said, a letter was also sent to Election Commission office on March 3, to probe an inquiry into the effect.
She alleged Chief Minister KP and his cronies for their face saving had ensnared her in the whole plot. Not only these allegations had weakened her political position, rather it had brought a bad name for my family, she lamented. Besides she added, a show cause notice should have been served to the members by the party leadership, so that they would be given a chance to prove their positions. She demanded of Party Chairman, Imran Khan to refer the case to (NAB), and National Accountability Bureau for further inquiry.