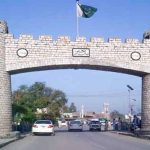 Several PTI workers have been arrested near the Zaman Park residence of Imran Khan in Lahore as the police and Rangers launched a fresh push against them. Rangers used rubber bullets against the PTI protesters as they moved in at around 12pm, nearly 22 hours since the police first arrived to arrest Imran Khan.
PTI workers, however, are still putting up strong resistance, and the standoff continues.
The Punjab government sent in the Rangers Wednesday morning after the Islamabad and Lahore police failed to arrest PTI Chief Imran Khan in an 18-hour standoff a day earlier.
The Rangers launched the operation at 8:40am on Wednesday. They went in with an armored vehicle but retreated after they were pelted with stones.
The police fired tear gas at PTI supporters who in turn hurled stones at the Police and Rangers.
A large number of party workers are facing off with a sizeable deployment of Rangers and police.
At 10:45am, Rangers made a fresh push at Zaman Park sparking a frenzy. Police started arresting PTI workers who pelted them with stones.
At 12:00pm, reports suggest Rangers were using rubber bullets against the PTI workers. TV footage showed Rangers personnel advancing toward PTI supporters.
A government statement said that at least 64 people, most of them policemen, had been injured in the clashes since Tuesday. Islamabad DIG Police Shehbaz Bukhari is among 54 injured policemen.
At least 8 PTI workers were also wounded, the statement said.
PTI Spokesperson Mussarrat Cheema said that at least four bus-loads of police personnel arrived at Zaman Park early Wednesday.
For its part, the PTI seems to have summoned reinforcements.
"I saw PTI workers from KP everywhere around Zaman Park. All the roads around Zaman Park have been blocked and this has caused trouble to ordinary residents since it is a work day," said Huma Butt.