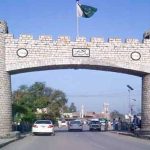 RAWALPINDI: Clashes erupted between Pakistan Tehreek-e-Insaf (PTI) workers and police at Committee Chowk in Rawalpindi today (Friday).
Reportedly, police have used tear gas shells and detained several protestors to stop them from advancing towards Lal Haveli.
PTI activists also pelted stones at baton-carrying police near Committee Chowk.
Political situation remains tense in Rawalpindi and Islamabad as Pakistan Tehreek-e-Insaf (PTI) and Awami Muslim League (AML) have vowed to go ahead with the plan of holding political rally despite imposition of section 144.
In a move to stop AML chief from holding the political rally, the authorities have placed shipping containers outside his Lal Haveli residence.
Several roads have been blocked in Rawalpindi.
Speaking to media at Committee Chowk, Rasheed said he is not afraid of going to jail. "Catch me if you can. I am coming. Get ready boys," he posted a message on Twitter.
In another tweet, the AML chief said Imran khan and Jahangir Tareen have assured him that they will reach Lal Haveli at any cost after Friday prayers.
Meanwhile, senior leaders of Pakistan Tehreek-e-Insaf (PTI) including Asad Omer and Shah Mahmood Qureshi are present at the residence of Imran Khan in Bani Gala to review preparations in connection with today's protest rally.
Imran Khan announced countrywide protests on Thursday after Islamabad police baton charged participants of a youth convention of PTI in Sector I-11.
"I will protest throughout Pakistan, our workers will protest throughout Pakistan — especially over the way women were mishandled," Khan told reporters.
"If (the) government wants to arrest me, they may go ahead, but for how long they can keep us inside, we will again hit roads after our release.
A notification Thursday banned gatherings in the capital for two months because protests were "likely to threaten public peace and tranquility, cause public annoyance or injury, endanger human life and safety.
The District Magistrate, Islamabad Capital Territory Capt (r) Mushtaq Ahmed prohibited carrying of firearms, all kind of gatherings of five or more persons and use of loudspeakers and sound amplifiers in Islamabad Capital Territory under Section 144 of Cr. PC 1898.
Information Minister Pervaiz Rashid has said that the government will ensure protection of people s life and property at all costs.
In an interview, he said nobody would be allowed to paralyse civic life of Islamabad.
The Minister said the government believes in democracy and never created any hurdle in the way of Imran Khan s political meetings in the past.
The planned protest comes at a sensitive time for Prime Minister Nawaz Sharif, with Supreme Court due to start hearing a case into the Panama Papers revelations about alleged involvement of Sharif's family on November 1.
The premier is under growing pressure from opposition parties over his children's offshore bank accounts that were revealed in the Panama Papers leak.