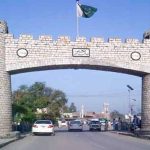 KARACHI: Scores of workers of Pakistan Tehreek-e-Insaf (PTI) staged a sit-in after reaching the main gante of Governor House in Karachi on Friday.
The protest is led by PTI MNA Arif Alvi and MPA Khurram Sher Zaman.
According to details, PTI's protest has led to massive traffic jam in the metropolis.
Police say that Aiwan-e-Saddar Road has been closed for traffic from Fowara Chowk to Governor House.
According to protestors, they will not end their protest unless all detained workers in Islamabad and Rawalpindi area released.
"Sindh Governor is the representative of federal government in Karachi. We have come here to register our protest," Arif Alvi said.
"Our workers from Karachi have also been detained in Islamabad," he said, urging the governor to condemn the illegal crackdown in Islamabad.