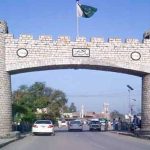 ISLAMABAD: Pakistan Tehrik-e-Insaf (PTI) has approached the EU, US, UK parliamentarians and international human rights against attacks on Imran Khan and violence on parliamentarians and party workers.
Former Speaker of National Assembly and PTI leader Asad Qaiser has sent letters to parliamentary and human rights forums around the world. Asad Qaiser, on behalf of the Tehreek-e-Insaf, sent letters to the US House of Representatives, House of Lords, European Union, IPY, CPA, and human rights organizations appealing to take note of the violence against parliamentarians and workers by the government.
In the letter to world organizations, Asad Qaiser said, "as a former speaker, I want to bring human rights violations in Pakistan into you notice. The Pakistan Tehreek-e-Insaf is the country's most popular political party. After political horse-trading, the PTI decided to take fresh mandate and resigned from the parliament."
To suppress the voice of the political workers, the caretaker governments in Punjab and Khyber Pakhtunkhwa have resorted to severe human rights violation, he said. He said that false cases have been registered against PTI workers and leaders including Imran Khan. He said that 127 cases have been registered against former Prime Minister Imran Khan.
Asad Qaiser said that multiple attacks and violence were carried out on the former Prime Minister's house and workers. The famous journalist Arshad Sharif was murdered while his mother has still not received justice. He alleged that PTI worker Zil-e-Shah was murdered during Punjab Police custody, and a case was filed against Imran Khan for the murder of his own worker Ali Bilal alias Zil-e-Shah.
He alleged that the PDM was trying to black mail the judiciary through leaking fake audio and videos of the judges.
Asad Qaiser said that despite clear orders of the Supreme Court, the Election Commission has postponed the elections in two provinces unconstitutionally.