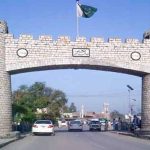 ISLAMABAD: The Supreme Court (SC) on Thursday set aside decision of Balochistan High Court (BHC) disqualifying Pakistan Tehreek-e-Insaf (PTI) provincial president Yar Muhammad Rind to contest the 2018 General Election.
Setting aside the Balochistan High Court's (BHC) decision, the apex court allowed Rind to contest the upcoming general elections and directed the Election Commission of Pakistan (ECP) to issue him an electoral symbol.
A two-judge bench of the apex court heard Rind's plea against the BHC's decision to disqualify him on the grounds that he possessed a fake degree and had a murder case against him.
The BHC, on Tuesday, had disqualified Yar Muhammad Rind on charges of murder against him and possession of fake degree and barred the PTI's provincial president from contesting the elections.