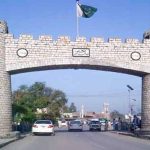 FAISALABAD: After recounting of votes in NA-108 Faisalabad constituency, Pakistan Tehreek-e-Insaf's (PTI) Farrukh Habib retained the seat over Pakistan Muslim League-Nawaz (PML-N) leader Abid Sher Ali.
PML-N's candidate Abid Sher Ali had requested for the recount of votes in the constituency after which, the process of recounting was initiated.
After the completion of recounting, the PTI candidate received 112,029 votes while 110,828 votes were cast in favour of the PML-N leader.
The initial results announcement following the July 25 polls had put Habib's vote count at 112,740 and Ali's at 111,529.
Following the recount results announcement, PTI workers celebrated outside the RO's office and distributed sweets.
Abid Sher Ali, who is also a relative of Begum Kulsoom Nawaz, has served as the water and power minister in the previous government led by Pakistan Muslim League-Nawaz.