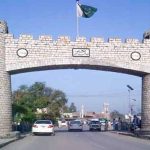 ISLAMABAD: Pashtun Tahaffuz Movement (PTM) activist Gulalai Ismail's name has been blacklisted today (Monday) in connection with anti-state speeches case.
According to details, all the airports across the country have been informed in this regard.
A case had also been registered against Gulalai for making anti-state speech and inciting Pashuns against the government and armed forces.
The case also included Section 7 of the Anti-Terrorism Act 1999 (ATA).
It was stated in the FIR (First Information Report) that Gulalai Ismail delivered an anti-state and hate speech during a protest rally organized in Islamabad against murder and alleged rape of 10-year-old girl Farishta.
Earlier, Gulalai Ismail was briefly apprehended by the Federal Investigation Agency (FIA) at Islamabad Airport upon her arrival from London.
She was taken to FIA Headquarters where she was interrogated for over two hours and was later allowed to go.