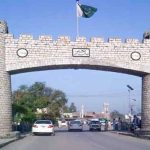 LAHORE: Former Prime Minister and Chairman of the Pakistan Tehreek-e-Insaf (PTI) Imran Khan Saturday announced to start country wide protest rallies from next week till May 14.
He was addressing participants of the party rally, which was taken out to express solidarity with the Chief Justice of Pakistan. He said that if the elections were not held on May 14, they would be on the streets, they will not take a breath until the elections are held. Imran Khan addressed the rally from inside his car at the Metro Station in Lakshmi Chowk.
Imran Khan said that if the elections were not held on May 14, they would take to streets, and he will hold rallies from next week until May 14.
Imran Khan, said that the decision to stand with the Constitution and against the alleged pressure and propaganda being imposed on the chief justice and other judges is the responsibility of the entire nation. He referred to the incumbent coalition government as the ones responsible for this situation.
Khan also announced that daily rallies would be held to prepare the public to protest in the event that elections are not held. He emphasized that violating the country's Constitution signifies the end of the justice system and the rule of law, and most importantly, the loss of the nation's freedom, turning them into slaves. He expressed his determination to continue fighting until elections are held and Pakistan regains its freedom.
Furthermore, Khan criticized the treatment of Foreign Minister Bilawal Bhutto-Zardari during his recent visit to India to attend a meeting of the Shanghai Cooperation Organisation (SCO). He referred to the way Bhutto-Zardari was treated by his Indian counterpart as a "matter of shame for all of us."
Khan also addressed remarks made by the Indian External Affairs Minister Subrahmanyam Jaishankar, who referred to Bhutto-Zardari as "a promoter, justifier, and spokesperson of a terrorism industry which is the mainstay of Pakistan." Khan expressed his disappointment and stated that it reflects poorly on India to invite a guest and then insult them. He criticized Jaishankar's lack of manners and etiquette in the matter.