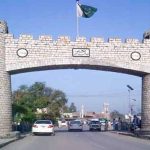 LAHORE: Punjab Government on Monday has announced three-day holidayon the occasion of Eid-ul-Fitr.
According to details, Chief Secretary Punjab has released the notification which states that the holidays will run from June 26 to June 28. Subsequently, the next working day will be on June 29.
Met Office has predicted that the ongoing month will be of 29 days as the Eid will fall on June 26. The Islamic festival marks the culmination of the month of Ramazan in which Muslims fast for 30 days.
Moreover, around 150 prisoners have filed a bail petition in Session Court so that they can enjoy this Eid with their family members.