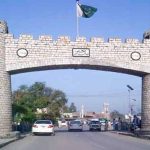 LAHORE: Punjab Governor Chaudhry Muhammad Sarwar on Saturday signed the Local Government Bill 2019.
"We are fulfilling our promise to transfer powers to the lower-tiers of administration," Sarwar said.
He added that people were being empowered in line with the vision of Prime Minister Imran Khan.
On April 30, the Punjab Assembly adopted the Local Government Bill 2019 through majority vote with the opposition boycotting the session.
The Lahore High Court on May 3 dismissed a petition against the Punjab Local Government Bill 2019 and likely dissolution of the current set-up of the local government after declaring it non-maintainable.