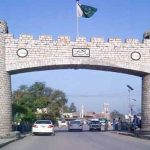 ISLAMABAD: Home Department Punjab on Wednesday decided to extend parole tenure of Former prime minister Nawaz Sharif, his daughter, Maryam, and son-in-law Captain (retd) Mohammad Safdar after his ailing wife, Begum Kulsoom, passed away at a hospital in London.
Nawaz, Maryam and Capt (retd) Safdar were released on 12-hour parole to attend Begum Kulsoom's funeral.
Nawaz, Maryam and Capt (retd) Safdar were escorted by police from Adyala Jail to the Nur Khan Airbase from where they were brought to Lahore via special flight at 2:30am on Wednesday.
Pakistan Muslim League-Nawaz (PML-N) President Shehbaz Sharif accompanied the three on the flight to Lahore.
Begum Kulsoom, the wife of former prime minister Nawaz, passed away in London on Tuesday after battling cancer.
She was diagnosed with lymphoma last year, barely a month after Nawaz was removed from office by the Supreme Court, which ordered him to face trial in an anti-corruption court.
On the other hand, leaders and the workers of the Pakistan Muslim League-Nawaz(PML-N) arriving at Jati Umra in large number to show their grief at the demise of Begum Kulsoom Nawaz.