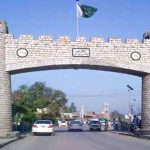 LAHORE: Punjab Finance Minister Makhdoom Hashim Bakht on Tuesday presented the provincial assembly budget for the fiscal year 2018-19 amid opposition protest.
The minister while presenting the budget criticised the previous provincial government over what he said was flawed planning which resulted in huge loss to the provincial exchequer.
He said the PML-N left nothing but the option of taking loans for the incumbent government as the loans had become a necessity in order to run the affairs of the province.