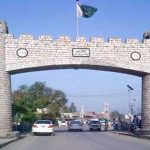 ISLAMABAD: In a surprising turn of events, the Supreme Court's five-member bench hearing the case regarding delay in the elections in Punjab and Khyber-Pakhtunkhwa (KP) has been dissolved after Justice Aminuddin Khan recused from it.
Justice Aminuddin Khan cited yesterday's order of the Supreme court, saying that being signatory to to yesterday's decision, he could not sit on the bench.
On Wednesday, a top court bench headed by Justice Qazi Faez Isa ordered to adjourn the hearing of cases of constitutional importance and suo motu notices.
A three-member bench of the court issued the order in a case of giving grace marks to Hafiz-e-Quran. The nine-page decision was written by Justice Qazi Faiz Isa, while Justice Shahid Waheed dissented with the decision.
The judgment written by Justice Isa stated that the Constitution and the law do not allow the chief justice to constitute a special bench. There are rules governing petitions filed under Article 184(3).
There are no rules for fixing suo motu cases and setting up benches.
Hence, until such rules are framed, the hearing of important constitutional and suo motu automatic cases should be postponed.
"I cannot sit on the bench," Justice Aminuddin Khan said, without providing any further details.
The much-awaited judgment on the case was expected to be announced today (Thursday), as the hearing in the court was scheduled to commence at 12:00 pm today.
Today, the Attorney General Mansoor Usman Awan was supposed to present federal government's stance on the matter.
It is noteworthy that the court's decision on March 1 was divided with a 3-4 or 2-3 margin, and the Attorney General was expected to assist the court in making a final decision.