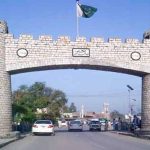 ISLAMABAD: The Supreme Court Monday issued notices to Election Commission of Pakistan (ECP)m federal government and governors of Khyber Pakhtunkhwa and Punjab over delay in elections for provincial assemblies. The court adjourned the hearing till Tuesday morning.
A five-member bench of the Supreme court, headed by Chief Justice Umar Ata Bandial, heard the PTI's petition against ECP's decision to postpone the general elections in Punjab and Khyber Pakhtunkhwa till October 8. The bench included Justice Ijaz ul Ahsan, Justice Munib Akhtar, Justice Amin-Ud-Din Khan and Justice Jamal Khan Mandokhail.
The chief justice remarked elections were indispensable for the functioning of our governance system. "The electoral process should be fair and transparent and that's exactly what Article 218 talks about," the CJP said.
During the hearing PTI's lawyer Barrister Ali Zafar said that contempt of court has been committed thrice as the Supreme Court's decision regarding elections within 90 days was not implemented.
The chief justice asked the PTI lawyer that when was the election schedule issued?" The PTI's counsel replied that the schedule was issued on March 8. He said that the ECP did not have powers to give the date for elections and the ECP could not change the date announced by the president.
He added that the president, after consultation with the ECP, gave April 30 for polls as the apex court had ordered the ECP to fix the earliest date for elections after the completion of the 90-day period.
The chief justice asked the Pakistan Tehreek-e-Insaf (PTI) and the government to ensure peace. The Chief Justice stated that it is an extremely unfortunate situation where both parties are at each other's throats. The PTI and the government should ensure that they want transparent elections or not. He said that the interpretation of the Constitution is for the convenience of the people, not for making or breaking governments.
The court demanded assurance of peaceful behavior from both the PTI and the government for transparent elections.
The Chief Justice said that both parties should make the decision themselves as to how they can ensure transparency in the elections. For the people, the elections must be peaceful, transparent and fair. The election process must be transparent and secure, as Article 218 talks about the transparency of the elections.
The Supreme Court adjourned the case for further hearing until tomorrow at 11:00 a.m.