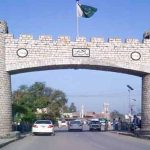 LAHORE: Chairman of THE PTI, Imran Khan, has hinted at taking to street once again against the government, saying that they would be on streets if elections were not held within 90 days.
Talking to newsmen here at his residence, the PTI chief said that if elections are not held within the next 90 days, the constitution will be rendered meaningless.
Imran stated that retired General Qamar Javed Bajwa wanted friendship with India, which also caused differences with him.. Imran added that if there were to be any accountability against General Bajwa, it should come from within the army.
Imran said that President Arif Alvi is not playing any role between PTI and the establishment. He also mentioned that Shah Mahmood and Pervez Elahi have been tasked with re-establishing contact with other parties and political figures.
In response to a question, Imran stated that when the Supreme Court reinstated the assembly through a suo moto petition earlier, it was okay, but now they are backing out after taking up the issue of elections through suo moto. He further added that under which law the dissolved Punjab and KPK assemblies could be reinstated.
Imran also said that Punjab Chief Minister and IG are criminals, and a raid was carried out on his house in his absence. He said that he is going to file a case against them in court.
Meanwhile, PTI leaders have started contacts with other political parties. Asad Umar went the Mansoora, the headquarters of the Jamaat-e-Islami and met with JI leaders. Similarly, Shah Mehmood Qureshi went to the office of MWM and met with the religious parties' leaders. They discussed the current political situation especially judicial crisis and elections in Punjab and Khyber Pakhtunkhwa.