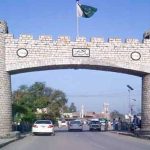 LALA MUSA: Pakistan People's Party (PPP) chairman Bilawal Bhutto Zardari has said that Pakistan Tehreek-i-Insaf (PTI) chief Imran Khan is mistaken that he could scheme his way into becoming Prime Minister.
Speaking to media in Lala Musa on Wednesday, Bilawal urged to work together on charter of democracy after general elections 2018.
He said that 80 percent of the charter was implemented but some work was still pending.
Bilawal further said that puppet alliances are usually made before general elections adding that Imran Khan's politics were destroying the country.
Meanwhile, PPP's Caravan-i-Jamhooriat (convoy for democracy) is underway and is scheduled from Lala Musa to Faisalabad for today.