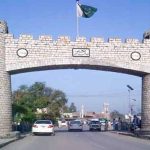 ISLAMABAD: Foreign minister Khawaja Asif has said on Friday that United States (US) step to put Pakistan on watch list for religious freedom violations shows her malicious intent.
A private telly channel reported that the foreign minister has branded the US move a sign of approving use of all weapons against Pakistan.
Asif said that the States invariably deceived Pakistan in tough times and that the world powers that United States subjected to her vengeance are all very much alive.
The federal minister claimed that US stance towards Afghanistan kept changing over a period of time and that the blame for failure in Afghan peace process is being dumped on neighbouring Pakistan.
There is not one demand of the States that Pakistan did not meet, Asif claimed.
While talking about arch rival India, the foreign minister said that the situation that minorities in India are leading their lives in is known to the world. People are lynched for consuming beef in India, he said.