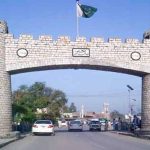 SWABI: National Assembly Speaker Asad Qaiser on Sunday said that a new syllabus is not being introduced in madrassahs.
Speaking to the media in Panjpir area of Swabi, the National Assembly speaker said, "We imposed that the Holy Quran be taught with translation and included the fundamental article of faith of finality of Prophethood in the syllabus in schools across Khyber Pakhtunkhwa and will do the same in Punjab."
Qaiser further said, "Incorrect reports are being circulated regarding the syllabus of madrassahs."
"We are neither introducing a new syllabus for madrassahs nor are we drafting any policy," he clarified. "Till Prime Minister Imran Khan and I are here no such thing can happen," the NA speaker added.
"Madrassahs are Islam's forts and preach peace and are among our top priorities," he added.