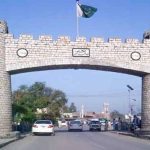 LAHORE: The National Accountability Bureau (NAB) has claimed that main accused in Paragon City scandal, Qaiser Amin Butt, has requested to become approver against an important political personality.
According reports, a spokesman for the NAB said that the NAB has received an application of arrested director of Paragon City, Qaiser Amin Butt for becoming approver against an important political leader in the case.
The NAB spokesman rejected reports about plea bargain request of Butt, saying that the NAB was reviewing the application of the accused for becoming approver in the case.
Qaiser Amin Butt, also former member of the Punjab Assembly, was arrested from Interior Sindh province when he was trying to reach Sukkur airport to flee the country. Former railway minister and PML-N's MNA Saad Rafique and his brother Salman Rafique were also accused in the case.