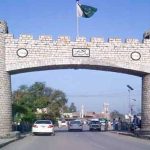 PESHAWAR: The government failed to ensure one Eid in the country as despite disappearance of Mufti Shahabuddin Popalzai, the Qasim Ali Khan Mosque moon sighting committee Saturday announced that they have received witnesses about Shawwal moon sighting and the Eid would be celebrated on Sunday.
According to reports, the Qasim Ali Mosque committee received more than 80 witnesses. According some reports, Mufti Shahabuddin Popalzai has left for Dubai. However, on social media some people claimed that Popalzai and his friends have been arrested at FIA headquarters Islamabad.
According to reports, the committee received 14 witnesses from s Swabi, 18 from Mardan, 9 from Shabqadar, 8 form Bannu, 12 from North Waziristan, 10 from Peshawar and many people in Peshawar claimed to have sighted moon.