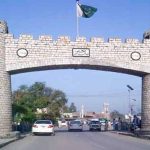 ISLAMABAD: Awami Muslim League (AML) Chief Sheikh Rashid on Wednesday termed Liquefied Natural Gas (LNG) agreement with Qatar as 'mother of all thefts'.
Talking to media in Islamabad, Sheikh Rashid lashed out at Pakistan Muslim League-Nawaz (PML-N) and said that he will be presenting record of incumbent government's Rs200 billion corruption in National Assembly (NA) today.
He predicted that Pakistan is soon going to be hit by severe financial crisis for which 'disqualified Prime Minister and his party' will be responsible.
There is no option left except taking to streets against the corruption, he continued.
Earlier, AML chief termed Hudaibiya Paper Mills "Mother of all Crimes", and said, "I am hopeful that Nawaz Sharif will face reference filed against him."
Sheikh Rashid notified that Sharif family lawyers only argued over the past facts but the SC verdict was comprehensive, authentic and historical that all the review petitions were dismissed by the court.