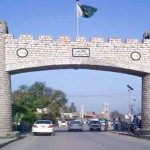 GENEVA: A quadrilateral meeting of Pakistan, Afghanistan, Iran and UNHCR is being held in Geneva on Friday (October 7) to examine the sustainable return of Afghan refugees and their resettlement in their country.
Minister for States and Frontier Regions Abdul Qadir Baloch would represent Pakistan at the moot.
The Minister had a meeting with Afghan Chief Executive Abdullah Abdullah.
They discussed the return of repatriation of Afghan refugees in dignity and honour to Afghanistan.
The Afghan Chief Executive appreciated Pakistan's generous hosting of Afghan refugees for the past four decades.
He said there was a clear decision by Afghan Government that refugees should return to their country. All out efforts are being made for their sustainable resettlement in Afghanistan.