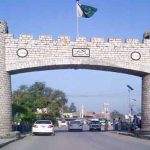 PESHAWAR: The Governor of Khyber Pakhtunkhwa Engineer Iqbal Zafar Jhagra Wednesday said that providing quality education to tribal students of FATA is top most priority of the Government.
The government is deploying all available means that could prove helpful in improving life standard of tribal people.
This he stated while addressing scholarship distribution ceremony amongst the students of Edward College hailing from FATA here at Governor's House. The principal of the College, Brig: Dr. Nayer Firdous, faculties and students were also present on the occasion.
The Governor gave away scholarship cheques to 30 students; amongst them also included some of the students from minorities. Meanwhile the principal of the college in a briefing on this occasion highlighted the curricular as well as co-curricular activities of the institution in detail.
Appreciating the scholarship scheme, the Governor said that every possible step is underway to encourage students. To improving literary rate in FATA, he added, the government is putting special focus on this aspect and provision of handsome every year amount on account of scholarship head is one such example. The establishment of FATA University, he added, is another major headway in FATA.
The Governor advised the students to fully concentrate on seeking knowledge, since they are the precious asset of the nation. The youth, he said, should come forward; serve the nation and contribute in building positive image of the country internationally.
Through education, the Governor said, people become aware and in respect of FATA, he added, it helps in promoting job opportunities and enabling tribal people to contribute more actively in development and progress of the country.
It is worth mentioning here that an amount of Rs1.3 million have been made available by the college to providing scholarships for its students hailing from FATA. The Governor appreciated the management of the institution for its appreciable initiative.