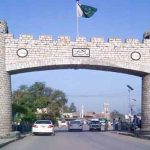 QUETTA: Inspector General FC Major General Sher Afghan has informed that the Quetta Police Training Center attackers acted on directions from Afghanistan and the initial investigation suggests the terrorists were affiliated with Lashkar-e-Jhangvi Al Almi.
Home Minister Balochistan Sarfraz Bugti confirmed that three terrorists attacked the recruitment centre on Monday night.
Speaking to the press accompanied with Inspector General FC Major Gen Sher Afghan, Sarfraz Bugti informed that after a brief exchange of fire with the personnel at the watchtower, the attackers entered the hostel compound. The first attacker blew himself up at the gate.
At least 59 police recruits were martyred and over 116 people, including recruits and FC personnel, were injured in the terrorist attack.
The compound has been cleared after four hours of operation by the security forces. Rescue work has also been completed.
Balochistan Chief Minister Sanaullah Zehri had said in response to a question that the government had received intelligence reports a couple of days ago of the presence of militants who had entered Quetta to carry out subversive activities.