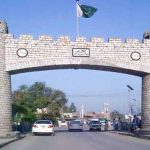 ISLAMABAD: The Election Commission of Pakistan has appointed Quratul Ain as ECP's new spokeswoman.
The notification for the appointment of Director Media Quratul Ain as new ECP spokesman was issued on Friday.
Quratul Ain will replace Haroon Khan.
It is pertinent to mention here that the ECP on Tuesday had sacked its spokesperson Haroon Shinwari for issuing a statement "without directions from the higher authorities" regarding the holding of polls in case of dissolution of Punjab and Khyber-Pakhtunkhwa assemblies by the PTI.