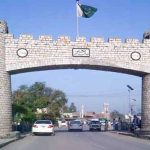 ISLAMABAD: Vice chairman of Pakistan Tehreek-e-Insaf Shah Mehmood Qureshi has said on Sunday that the federation is subjecting Khyber Pakhtunkhwa province to partisanship and that the government of Sindh has done nothing that could be referred to as development of the people.
Qureshi addressed a convention of workers of Pakistan Tehreek-e-Insaf in the federal capital and during his address he said that PTI could not focus much on development in Sindh however, political atlas of the province would be seen changing in General Elections 2018.
He said that the people of Punjab are hoping that PTI would get them rid of the rule of Pakistan Muslim League-Nawaz and corrupt leaders. He claimed that the people of Punjab are not in favour of Pakistan People's Party and Pakistan Muslim League-Nawaz.
Qureshi said that there is a lot of development work to be done in Balochistan and for the purpose PTI has begun to organise the political forum there.