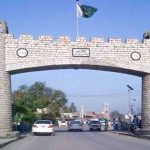 MULTAN: Vice Chairman Pakistan Tehreek-e-Insaf (PTI) Shah Mehmood Qureshi appealed to angry party workers including Multan City President Khalid Khan Khakwani and District President Ejaz Janjua to shun their differences and support struggle of Imran Khan.
He was talking to the media at Sharifpura. Chairman UC 17 Sharifpura Amjid Ali Ansari announced his decision to join PTI on this occasion.
Qureshi said that ideological workers, who are angry due to non-issuance of tickets, would be accomodated in future. Imran Khan has promised with the party workers that they would be given suitable responsibilities, he added.