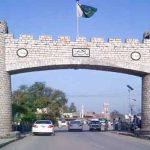 ISLAMABAD: Senior PTI leader Shah Mahmood Qureshi on Saturday felicitated General Qamar Javed Bajwa for his appointment as new army chief.
Qureshi also congratulated Lieutenant General Zubair Mahmood Hayat for becoming the Chairman Joint Chiefs of Staff Committee (CJCSC).
"Both the generals have been given important responsibilities at a time when there are serious security concerns due to Indian aggression along the line of control," he said.
The senior politician said that two generals were faced many challenges including security of CPEC, terrorism and Indian aggression.
He said that situation was also very critical in Afghanistan, where India was increasing its influence.
"General Qamar Javed Bajwa will prove to be a successful commander of armed forces," he said, adding that General Raheel Sharif had set a good precedent due to his remarkable achievements.