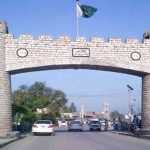 ISLAMABAD: Foreign minister Shah Mehmood Qureshi on Monday has clarified that no approval has been given to use Pakistani land for India-Afghanistan trade.
Talking to British Broadcasting Corporation (BBC), Qureshi rejected the claim and assured that no such steps have been taken for the trade activities between both neighboring countries.
It is to be mentioned here that U.S. Ambassador to Afghanistan John Bass had remarked that Pakistan has allowed to use its land for trade between India and Afghanistan.
However, Qureshi said that there is a need to first resolve the technical and strategic issues linked with transit trade in the region.
Earlier, Foreign Minister Shah Mehmood Qureshi had arrived in Kabul, Afghanistan on a one-day official visit during which, he held talks with civil and military leadership on bilateral issues and security matters of the region.
Shah Mehmood Qureshi had reiterated Pakistan's support for the Afghan National Unity Government's efforts to bring lasting peace in Afghanistan and assured that Islamabad with other partners, was ready to play a constructive role in facilitating an Afghan-led and Afghan-owned peace process and reconciliation during the meetings.
During his visit, Qureshi conveyed to the Afghan leadership that the new government attached importance to its relations with Afghanistan and would work towards further deepening cooperation in the fields of trade development and connectivity.
Qureshi also handed over a letter from Prime Minister Imran Khan addressed to the Afghan President marking the first consignment of 40,000 tonnes of wheat gifted to the Afghan people.