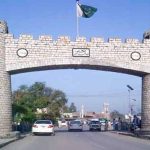 ISLAMABAD: Pakistan's high commissioner in the United Kingdom was summoned to the Foreign Office on Thursday after the foreign minister took notice of "inappropriate" behaviour by the envoy at an awards show.
Pakistani High Commissioner in United Kingdom Sahibzada Ahmed Khan was also asked by Foreign Minister Shah Mehmood Qureshi to submit a written explanation of the incident.
A statement released by the FO said Qureshi was informed of the high commissioner's behaviour at the awards show held in the UK through social and electronic media.