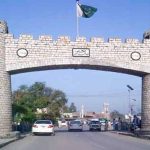 MULTAN: Foreign Minister Shah Mehmood Qureshi said on Saturday that decision has been taken regarding construction of the South Punjab province secretariat, however, officials would be appointed by July 1 after approval of development budget for next financial year.
Reportedly, Qureshi spoke to the media in Multan where he asserted that 18th amendment has transferred authoritative powers to the provinces but did not address core issues of districts, thus restricting South Punjab in the field of development and prosperity.
He affirmed to resolve issues of the general public by formulating and constructing a secretariat for South Punjab.
Furthermore, he vowed to strive for necessary alterations in the Constitution of Pakistan besides implementation of executive decisions.
He also refuted what he termed "political mileage" by opposition parties in the matter instead of cooperating with the government.
Moreover, he appreciated America's decision of withdrawing its troops from Afghanistan but strongly condemned Indian armed forces for an ongoing brutality in Kashmir and violations of human rights.