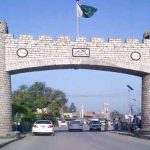 Prime Minister Shehbaz Sharif said the Radio Pakistan Peshawar building was the place from where the world was told that the country had come into being.
Addressing a ceremony at Radio Pakistan Peshawar today, the PM said a heart-wrenching incident took place on May 9 and 10, adding that nations sacrificed their lives to defend their heritage.
"The archives here were torched and the record of over 100 years old destroyed," the PM lamented.
He also said he had found out the Radio Pakistan employees had not been paid their salaries in May, and ordered that they be paid immediately.
"You will get the funds in 48 hours," he announced.
"There is no difference between those behind the shameless attack on the building and anti-state elements. Even our long-lasting enemy could not think of such incidents," PM Sharif stressed.
He said those who carried out these attacks will be punished according to the law and Constitution.
Earlier, speaking at the ceremony, Marriyum Aurangzeb said the PTV was attacked in 2014, and this time Radio Pakistan was attacked under a plan.
A large mob attacked Radio Pakistan with petrol and clubs, she said, adding the transmitters and other items will be replaced, but valuable assets like archives have been torched.
An FIR was filed in the case, the minister remarked, adding attempts were made to disturb the transmission on May 10 also.
She further said many people were injured and shifted to hospital while saving the building.
She also stressed that May 9 cannot be repeated and the culprits will be severely punished.