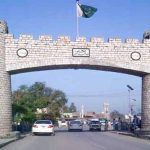 KARACHI: Pakistani playback and qawwali singer Rahat Fateh Ali Khan received an honorary doctorate by Oxford University on Wednesday.
He was awarded with the prestigious doctor of music degree, stated a press release.
"I am honoured to be accepting this degree from Oxford university, a world famous educational institution," said Khan ahead of the ceremony in Oxford. "This will be a very special day for me, my family and also my fans who have shared this honour with me. I am happy that my music has allowed me to reach such incredible heights."
Khan is also set to perform live at the Oxford town hall on Thursday.