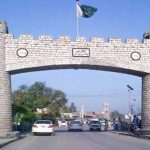 LAHORE: Minister for Railways, Sheikh Rashid Ahmad says Pakistan Railways has launched many new trains at a cost of five billion rupees to provide modern, safe and swift means of transportation to the passengers.
Addressing a press conference in Lahore on Saturday, he said the incident of derailment of a cargo train at Padidan station has been reported and we will look into its detail to ascertain its causes.
The Minister said as a result of the effective and solid measures taken by government for revival and progress of Railways, the passengers of trains have increased by six million.