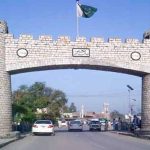 ISLAMABAD: Rain and thundershowers with gusty winds are expected at scattered places in Islamabad, Rawalpindi, Multan, D.G Khan, Faisalabad, Lahore, Sargodha, Malakand Division and Kashmir.
However, hot and dry weather is expected elsewhere in the country.
Temperature of some major cities recorded on Sunday morning:
Islamabad, Gilgit and Muzaffarabad 22 degree centigrade, Lahore 27, Karachi 30, Peshawar 25, Quetta 24, Murree 18 degree centigrade.