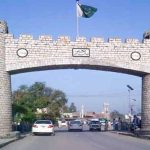 PESHAWAR: Rain and snowfall in the quake-hit areas have brought further trouble for the victims of the earthquake. Light rain in Kalam and rain in Gilgit-Baltistan (GB), Hazara Division, Malakand, Rawla Kot has lowered the temperature further in the areas. The relief activities are also feared to be disrupted by the rain and snowfall.
Light rain was also observed in Muzaffarabad, Bagh and many areas of Neelum Valley. Rawalpindi-Rawla Kot Road is also blocked for the last 2 days due to land-sliding in Soan. There was light rain in quake-hit areas of Khyber Pakhtunkhawa (KP) including Malakand and Hazara Division. Kalam was the coolest where temperature fell to -1 degree and 1mm snowfall was recorded. Temperature dropped to the freezing point in Qalat and Astore.
The troubles of the earthquake victims have increased with rain and snowfall while the relief activities are also expected to suffer due to the rain. According to Met office, more rain is expected in Azad Kashmir while the quake-hit areas of KP and GB will remain cold and dry.