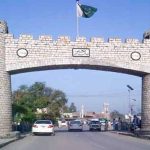 ISLAMABAD: Intermittent rain and snowfall in most parts of the country on Friday have welcomed the winter season however, the Lowari Top is still closed for every kind of traffic.
The Pakistan Meteorological Department (PMD) office has predicted drizzling in Peshawar and Mardan while scattered rain-thunderstorm with snowfall over hills is also expected in next 24 hours.
Meanwhile, the victims of October 26 earthquake and its subsequent aftershocks, who have been living out in the open, are facing additional problems due to rain and snowfall in upper parts of Pakistan as heavy downpour and snowstorm are still underway in Gilgit Chilas and Diamir.
The administration has failed to reopen the Lowari Top that was closed for traffic yesterday.
On the other hand, several connecting roads in Skardu and Ghanche have been shut down to avoid any mishap. PMD office has further forecasted snowfall in Kashmir that may affect the rescue operation badly.
Separately, dark clouds have surrounded the plain areas including Lahore, Rawalpindi and Islamabad with light fog.
Spokesman of PMD-Office informed that a westerly wave has entered Pakistan on Sunday evening. Under the influence of this weather system rain/thunderstorm is expected at scattered places of Khyber Pakhtunkhwa (KP), Gilgit-Baltistan and Kashmir and at isolated places of Zhob, Quetta, Rawalpindi, Sargodha divisions and Islamabad.