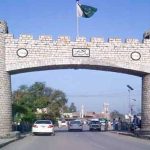 LAHORE: Chief Justice of Pakistan (CJP), Justice Saqib Nisar on Friday berated an official of the Civil Aviation Authority (CAA) for misreporting the incident of rainwater accumulation at the New Islamabad International Airport.
Hearing a suo motu case regarding the incident at the Lahore registry, the Chief Justice Nisar-led bench was showed a video of stagnant water at the airport.
The chief justice remarked that the video shows a lot of water whereas the CAA report attempts to downplay the matter.
The CAA deputy director general responded that the water accumulated in an under-construction building of the airport, adding that the heavy rain led to leakage and accumulation of water.
Chief Justice Nisar rejected the CAA report and remarked why the CAA official's case should not be sent to the Federal Investigation Agency (FIA) or contempt proceedings be initiated against him for submitting a false report.
The bench then adjourned the hearing of the case until July 31.