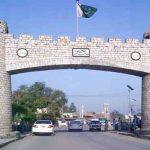 LAHORE: Pakistan Tehreek-i-Insaf (PTI) Chief Imran Khan has said that half of Punjab's budget is spent on constructing "Paris" in Raiwind – the residence of former prime minister Nawaz Sharif.
Addressing a press conference at party's secretariat in Lahore on Saturday, Imran Khan said that 55% of the total budget of Punjab has been spent on Lahore only.
The PTI Chief added the government of Punjab didn't construct a latest hospital in the entire province which could provide medical facilities in letter and spirit.
He said that hefty amount has been spent on Multan Metro adding that there was no need for such a project in as the busses run empty.
Imran Khan alleged that they [Nawaz Sharif, Shahbaz Sharif] have acquired the services of four big contractors who continuously increase the cost of projects after getting approval.
Chairman PTI said that he had spoken about the horse-trading in Senate elections but to no avail.
He said; however, "they" cry horse-trading after suffering defeat in the Senate elections.
Imran Khan revealed that he would answer on April 29 to the most frequently asked question "Why I was ousted".
He further said that political alliance with corrupt leaders like Nawaz Sharif and Pakistan People's Party Co-chairman Asif Ali Zardari is out of question.
Earlier in the day, Imran Khan arrived in Lahore on a two day visit amid cheer and clamors with huge number of party workers holding flags and chanting slogans in favor of their leader.
Majority areas of the city have been adorned with party flags and posters bearing the pictures of party leaders have also been placed at various points.
Imran Khan will visit membership camps set at 12 places and will take part in the administrative activities.
He landed at Lahore airport through a special plane and departed via old airport route in the form of congregation with heavy contingents of police deployed on route and membership camps.