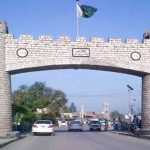 GILGIT: Newly appointed governor of Gilgit Baltistan Raja Jalal Hussain Maqpoon took oath of his office in Gilgit on Sunday.
Supreme Appellate Court Gilgit Baltistan Chief Judge Javed Iqbal administered the oath to the new governor.
GB Chief Minister Hafiz Hafeezur Rahman, cabinet ministers, elites, and senior civil and military authorities attended the ceremony.
On Sept 25, the federal government appointed Raja Jalal Hussain Maqpoon as new governor of Gilgit-Baltistan.
Maqpoon has remained president of the Pakistan Tehreek-e-Insaf (PTI) for the region. He was defeated by Pakistan Muslim League-Nawaz (PML-N) candidate Akbar Khan Taban in the GB Assembly election from Skardu constituency in 2015.
According to a notification issued by Ministry of Kashmir Affairs and Gilgit-Baltistan, Maqpoon has been appointed as new GB governor under Article 33(1) of the Government of Gilgit-Baltistan Order 2018.