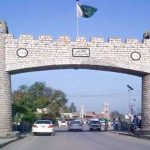 KARACHI: The Central Ruet-e-Hilal Committee announced that the Ramadan moon was not sighted in Pakistan on Sunday, hence first Roza will be on Tuesday (07th May).
A meeting was held under the chairmanship of Mufti Muneeb ur Rehman at the Karachi Met Office today to decide the start of the holy month.
Chairman Ruet-i-Hilal Committee Mufti Muneebur Rehman has announced that the moon for the month of Ramazan was not sighted on Sunday, and that the holy month will begin from Tuesday.
"No acceptable testimonies of moon sighting were received from any part of Pakistan," said Rehman. "This was a decision taken through mutual cooperation and after [incorporating] expert advice."
The Islamabad Zonal Committee has conveyed the information to the central committee that moon has not been sighted in the Federal Capital.
DG Auqaf Punjab Tahir Raza Bukhari told media that no evidence is received for moon sighting in whole of the Punjab and that the chairman has been updated in this regard.
The Ministry of Religious Affairs on Saturday said all information about the positioning of the crescent could be conveyed to Chairman, Central Ruet-e-Hilal Committee on Cell No. 0300-9285203 and 0321-2022000; Mushahid Hussain Khalid, Director (R&R) on Cell No 0300-6831822 ; Hafiz Abdul Qudoos, Deputy Director (Q) on Cell No 0333-2697051 and Pakistan Meteorological Department, Karachi on 021-99261412 and 021-99261413.
Ruet-e-Hilal Committee Chairman Mufti Munib-ur-Rehman would announce the decision of Ramadan moon sighting or otherwise subsequently on the basis of information received.