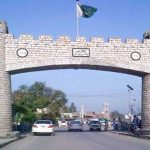 KARACHI: The new moon of Ramazan, 1439 AH, is likely to be sighted on May 16, according to Meteorological Department.
According to astronomical parameters, there is fair chance of sighting the new crescent of Ramazan, 1439 AH on the evening of May 16.
It said Ramazan's new moon will be born on May 15 at 4:49pm.
May 17 will be the first day of the holy month when the faithfuls will keep fast from dawn to dusk.
In Karachi, the sunset will happen at 7:05pm and after that the crescent may be visible for an hour.