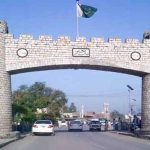 KARACHI: The government of Sindh on Tuesday gave Rangers special policing powers for another 90 days in Karachi.
According to a notification, the Home Ministry and the Interior Ministry approved the special powers given to Sindh Rangers.
The current validity of the powers conferred upon the Rangers in Karachi Division under the Anti-Terrorism Act 1997 will now expire on April 10, 2018.
Under the Anti-Terrorism Act 1997, Rangers can take independent actions against criminals and suspected terrorists within Karachi division for 90 days.