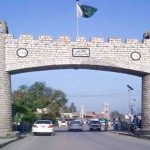 KARACHI: Rangers on Wednesday recovered a huge cache of arms and ammunition from a house during a raid in Gadap Town of Karachi.
The weapons likely to be used by an active militant wing found hidden at secret places in the house, a spokesman of Rangers said.
The arms and ammunition were kept in the house for use in target killings and other incidents of lawlessness in the city, the spokesman further said.
The spokesman while giving details of the recovered weapons, said the Rangers personnel recovered a light machine-gun (LMG), a seven mm rifle, an eight mm gun, two sub machine guns (SMGs), one nine mm rifle, three 30-bore baby SMGs, three 12 bore repeaters, three TT pistols, one 32 bore revolver and thousands of rounds and magazines.