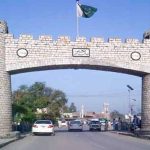 KARACHI: Sindh Rangers recovered on Sunday two foreigner migrants that were held hostages by drug peddlers in the locality of Defence.
According to a Sindh Rangers spokesperson, the abducted men were recovered during a raid from a house in Khayaban-e-Ittehad, Dha.
The kidnappers were identified as Waseem Baloch, Nadeem Rabbani and Fahad Shabeer . The foreigners belonging to Nigeria and Tanzania have also been suspected of involvement in drug business.
The Rangers spokesperson added that the ringleader Waseem Baloch is an accomplice of Sabir Baloch, a drug smuggler in Panjgur area of Balochistan.
Investigations led that the bungalow where the kidnapped person were recovered from belongs to Sabir Baloch.
Weaponries were also seized from possession of the kidnappers during the course of investigation.