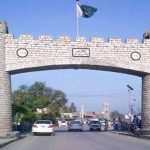 KARACHI: Rangers on Wednesday released Muttahida Qaumi Movement (MQM) leader Qamar Mansoor after the report was submitted in the anti-terrorism court (ATC) by the paramilitary force's law officer
MQM leader Qamar Mansoor was placed in the custody of the Rangers on a 90-day remand by an ATC on July 22.
The senior MQM leader was arrested along with fellow Rabita Committee member Kaif-ul-Wara in a pre-dawn raid on the party's Nine Zero headquarters on July 17 on charges of 'arranging and facilitating' hate speeches against the people of Karachi.
Kaif-ul-Wara was later released on the assurance that he would report to the Rangers after Eid.