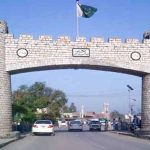 KARACHI: Lt General Naveed Mukhtar, Corps Commander Karachi, visited the Headquarters of Sindh Rangers, on Monday, located in Karachi. He admired the key role of Rangers in ensuring the peace and prosperity of Karachi.
He was warmly welcomed by Director General (DG) Sindh Rangers Major General Bilal Akbar and briefed about the security plan during Eid Milad un Nabi.
"Rangers have played a key role to ensure peace in Karachi", Corps Commander Karachi said while his visit to the Sindh Rangers Headquarters. Moreover, he added that the Rangers' officers and soldiers should be admired for their services.
According to Lt General Naveed Mukhtar, the hard work and sacrifices made by Sindh Rangers have become a part of the Karachi Peace Operation.