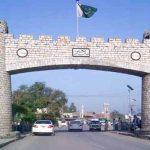 ISLAMABAD: Suspended Malir SSP Rao Anwar, accused of killing Naqeebullah Mehsood in an alleged fake encounter was arrested from outside the Supreme Court after he appeared before the apex court.
A bench headed by Chief Justice Mian Saqib Nisar has constituted a five-member committee comprising police officials and headed by Aftab Pathan.
The chief justice asked him as to why he failed to trust the court and instead wrote letters which didn't create good impression.
The court said Sindh Police would be responsible for the security of the former Malir SSP.
The officer who arrived in a white car wearing a mask appeared confident.
He appeared before the court two months after extra judicial murder of Naqeebullah Mehsood, a youth from South Waziristan.
Mehsood was killed in January in an encounter led by Rao Anwar, sparking outrage across the country.
The Supreme Court took notice of the incident after authorities failed to arrest him.
The officer ignored Supreme Court orders to appear before the court after his attempt to flee the country from Benazir International Airport was foiled.
The Supreme Court last month issued contempt notice to Rao Anwar as he failed to appear before the apex court despite being granted protective bail.
The court, police and family of Naqeebullah Mehsood were hoping the fugitive officer would turn up after the court orders but he didn't.
The court ordered the State Bank of Pakistan to freeze banks accounts of Rao Anwar and directed ISI, IB, and MI to help police arrest the officer.
In January a case was registered against the suspended Malir SSP over the extrajudicial killing of Waziristan native Naqeebullah Mehsud.
Rao Anwar is wanted in an inquiry into the extrajudicial murder of Naqeebullah Mehsud, a 27-year-old native of Waziristan who was among the four suspected terrorists killed in an 'exchange of fire' with a police team on January 13 in Shah Latif Town, Karachi.
The suspended police officer's name was placed on the Exit Control List (ECL) on the orders of the Supreme Court after it took notice of his reported attempt to leave the country.
Rao Anwar's attempt to flee the country was foiled by the Federal Investigation Agency (FIA) officials when he was trying to sneak out from the Islamabad Airport. Instead of surrendering to the police in Karachi and defending himself in the court of law, apparently Rao Anwar tried to flee the country to avoid arrest.
After evading arrest in Karachi, Rao Anwar in a surprise move managed to sneak out of Karachi and reached Islamabad. He managed to get an 'electronic visa' for Dubai and also faked a letter from the office of the chief secretary of Sindh Rizwan Memon, granting him seven-day leave as well as allowing him to travel abroad.